Eva (formerly Mia)
Who knew she was a water dog? It certainly didn't show at bath time.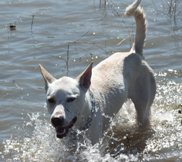 - A letter from Eva's Family -
Eva has been such a joy to have in our lives. We had 2 dogs with vastly different personalities and wanted another dog that could challenge and play with our active German Shepherd, Alex. Never in a million years did we think Eva would bring out the playful side of our lazy dog, Ivan.
We chose rescue because there are so many dogs in need and for us to help one of those dogs made us feel really good. Rescuing a dog that is in need of a loving home is by far one of the most rewarding experiences of our lives. When a dog that has had a not so pleasant past learns to trust and love us back, all of the effort is paid back several times.
When we were searching for a new dog, we didn't have a particular type in mind, only that she had to be playful. We saw Eva online and fell in love with her right away. Any other dog we considered just wasn't Eva. When we finally met her in person, we knew right away that she was going to be a part of our family.
The adoption process through Snow Capped Shepherd Rescue is phenomenal. Not only do they work one on one with each situation and ensure that the dog is placed in a great home, but they also have a loving commitment to the dog and new family. This rescue organization goes above and beyond to find the proper home for each dog.
It was trying the first few weeks when we had to teach her some manners, but in the 6 short weeks that we have had her, she has learned a lot of things and has brought a lot of joy to our lives. We cannot imagine our house with out her and our other dogs love her just as much as we do.